Turn Tables:
Turn tables are manufactured for manual or motorized rotation in a variety of styles for a host of applications.
Standard diameters, heights, and capacities are listed below.
Non-standards can be quoted upon request.
Manual Turn Tables:
Special Low Profile Turn Table: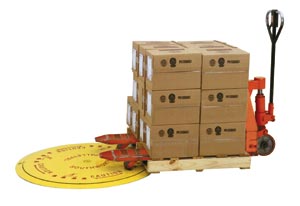 43-5/16" diameter deck, 48-5/8" overall (only size)
4000 lbs capacity
7/8" top of deck elevation
Not suitable for washdown applications
Not available in stainless steel
Standard Low Profile Turn Tables:
24" to 96" diameter platforms
30" x 30" to 120" x 120" square platforms
3-1/2" + minimum elevation
Up to 10,000 lbs capacity
Rotational limits via optional detents, locking pins, stops
Platforms supported by ball bearing rollers or cam followers
Extra Heavy Duty Turn Tables have ring bearings
Available in stainless steel
Ergonomic Pallet Positioning Turn Tables: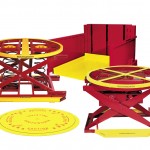 Mounted on three (3) types of elevation changing bases
Spring actuated, adjusts elevation as load increases/decreases
Hydraulic actuation
Pneumatic actuation
Rotator ring diameter is 43-5/8"
Capacity of spring actuated model is 220 lbs to 4500 lbs compressed height is 9-1/2" to extended height of 28"
Hydraulic models come in 2000 and 4000 lbs capacity
Pneumatic models have a capacity of 400 to 4500 lbs capacity compressed height is 9-1/2" to 30-1/2" extended height
Powered Turn Tables:
Low Profile and Standard Profile Powered Turn Tables:
24" to 96" diameter decks, or 48" x 48" to 120" to 120" square decks
2,000 to 10,000 lbs capacity
3-1/2" + lowered height depending on loading/application
0 to 10 RPMs and 0 to 5 RPMs rotation speeds available
Bi-directional rotation
Rotational control by limit switch, proximity switch, or PLC
Platform is supported by a high capacity ring bearing
Items to consider when selecting a turn table for your application:
Size and weight of the maximum load
How the load is to be placed on the deck
Edge loading and impact loading
Devices such as conveyors or ball tables mounted to deck
Rotation speed requirements
Duty cycle
Environmental conditions (heat/cold/damp/wet)
Special finishes such as special paint, stainless steel, etc
Control of turn table
Click here for more information on Conveyor Electrical Controls and Control Panels.