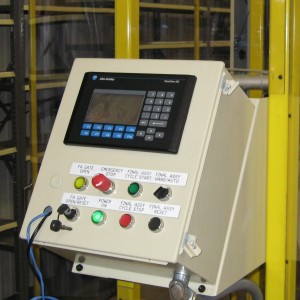 Cardinal Conveyor INC offers services from design, to assembly, to install, to retrofit of your control systems. With these control systems, we are able to provide a full turnkey system that is modified to your specific need. We use a flexible, tailored approach to help our customers achieve their fullest potential. We assemble panels using parts from industry-leading manufacturers such as Allen-Bradley, GE, Koyo, Automation Direct, IDEC, as well as many others.
Whether you are looking for:
Motor Control Panels, Industrial Control Panels and Automation Systems, Conveyor Control System, Variable Frequency Drive Systems, Interface Control Systems or Retrofit of an existing Control Panel.
Our Control Panel Assemblies help our customers…
    Reduce lead times.
    Reduce cost.
    Reduce labor.
By using our Control Panel Assemblies, your labor force can concentrate on their core responsibilities. Instead of spending precious time purchasing, receiving, transporting, and assembling the system controls, your team can focus on their responsibilities.
All of our Electrical Control Panel Packages are:
  Operator Friendly
  Well Documented
  Aesthetically Pleasing
  Easy to Troubleshoot in the Field