Steel Hinge Conveyor Belts
Steel Hinge Belt Conveyors are heavy-duty scrap handling and recycling conveyors. They are classified by their pitch, which is the distance (in inches) between the centers of the belts hinge points.
From 2-1/2" pitch to 9" pitch (others available) we can supply you with steel hinge belting you need to replace your old, worn out belt.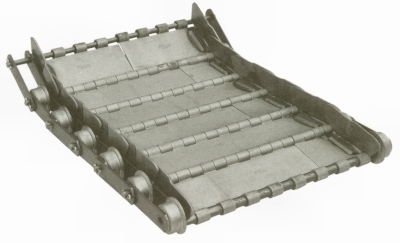 *NOTE*
The serial number of the conveyor is paramount when ordering replacement belting!
Below are some specifications:
2-1/2" pitch:
– Widths: From 4" to 48" (increments of 2")
– Pans: Plain, Pimpled, Pimpled/Perforated
– Side Wings: Powdered Metal – Welded or Slide On
– Construction: Pin & Cotter
– Options:
1-1/2" high cleats welded on various centers
Impact Pads
Heat Bars
Special Cleats
Welded Loops
Outside Side Bars
Radial sidewings & apron for maximum opening of .010"
4" pitch:
– Widths: From 6" to 60" (increments of 4")
– Pans: Plain, Pimpled, Pimpled/Perforated
– Side Wings: MIG Welded to Apron Pins
– Construction: Pin & Cotter
– Options:
 2-1/2" high cleats welded on centers divisible by 4"
Impact Pads
Heat Bars
Special Cleats
Welded Loops
Radial sidewings & apron for maximum opening of .010"
6" pitch:
– Widths: From 12" to 72" (increments of 6")
– Pans: Plain, Pimple, Pimpled/Perforated
– Side Wings: 4" High ¼" thick
– Options:
Welded on cleats
Impact Pads
Welded Barrels
Special Cleats
Radial sidewings & apron for maximum opening of .010"