Rollers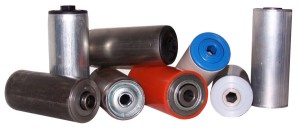 There are many, many different types of conveyor rollers. Gravity, powered, sprocketed, grooved and tapered are the most common.
Conveyor Rollers have many options including:
Mild (low carbon) Steel
Galvanized Steel Gravity
Stainless Steel
Aluminum Coated
PVC Taper
Industrial Steel Pipe Concave
Zinc, Nickel, & Chrome Plating
Urethane, Plastisol, Neoprene, Teflon, Vinyl, & other coatings (different colors available)
Non-Precision, Semi-Precision, Precision, & Plastic Bearings (many others)
Tapered, Concave, Bow-Tie, Turned Down, Dog-Bone, & Bubble rollers available
The following two charts will cover the majority of roller requests
Click here to access and print the roller quote request form.
The following links are also helpful regarding conveyor rollers:
Omni Roller Optimization and Measurement Guide