Chain Hoists
Chain hoists are used for lifting, moving, rotating, and maneuvering heavy objects. They are usually suspended from an overhead rail, crane, or fixture capable of withstanding the load being picked up.
Manual Chain Hoists:

     
Manual chain hoists have a lever or chain as the lifting mechanism which you turn or pull (respectively). They come with either a hook or trolley to suspend them.
Specs:
½ ton to 100 ton capacities available
Compact design
All-steel construction
One-Handed operation (on lever models)
Slip clutch prevents over loading  capacity (chain models)
Electric Chain Hoists:
Electric chain hoists are available in single phase or three phase power configurations. They come with either hook, manual trolley, or geared trolley suspension options.
Specs:
1/8 ton to 20 ton capacities
Adjustable dual speed
Completely sealed body for harsh conditions
DC current motor brake with electrical fail safe design
Air Chain Hoists: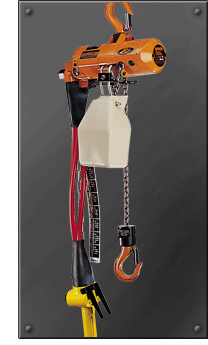 For when an electric power supply is not available. These hoists feature unlimited duty cycle for extreme applications.
Specs:
250 lbs. to 25 ton capacities
Adjustable load limiter stops lift when load is over capacity
Very fine feathering control allows precise load positioning
*Electric wire rope hoists are also available
Call us for details!